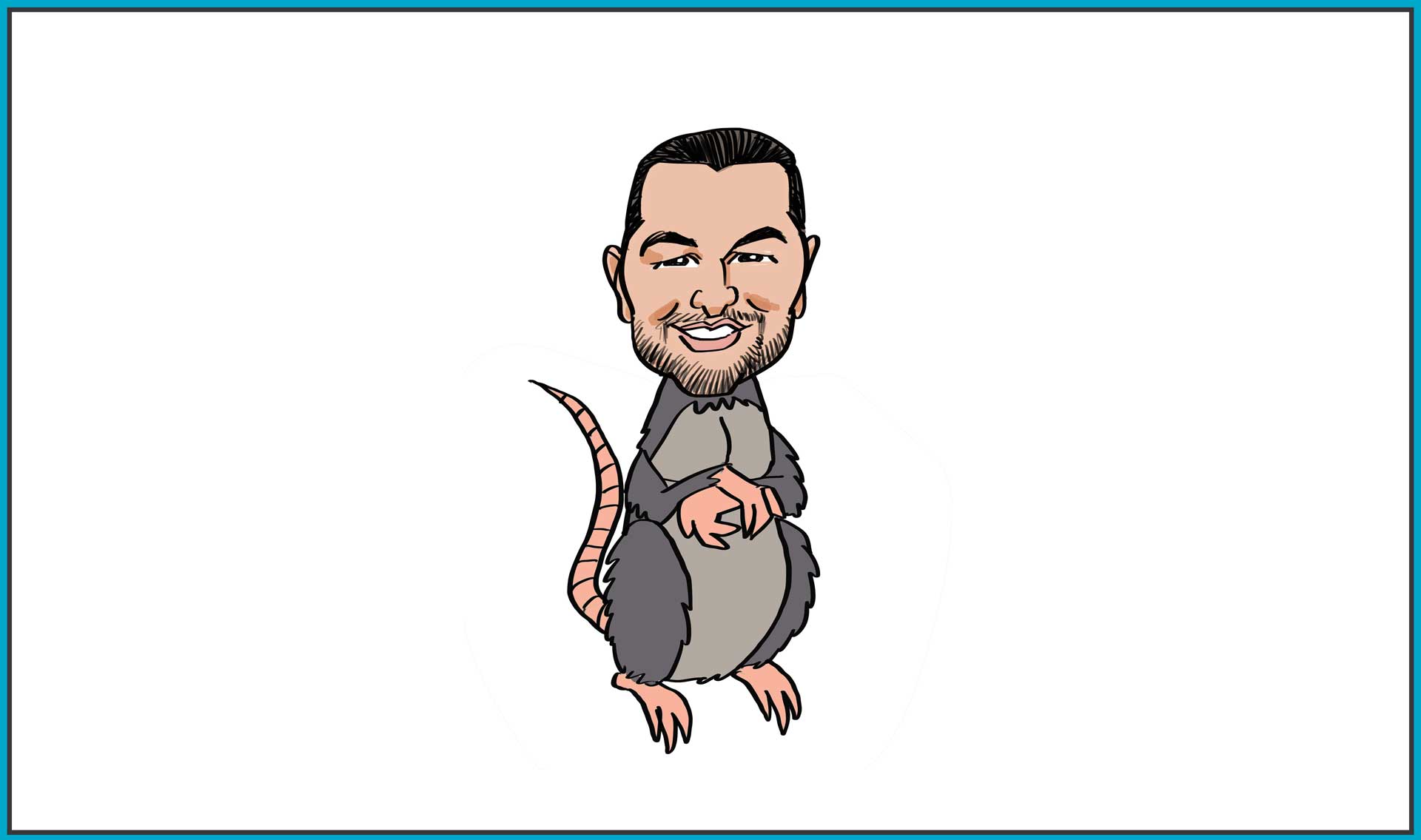 Tzorya Indictment: Part 1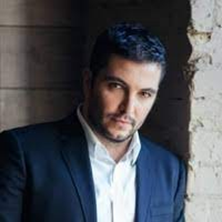 Ilan Tzorya, born on May 18, 1979, is a self-employed, Israeli citizen who has developed quite a notable track record in his career. Tzorya is most especially known for his company, Tradologic, a fintech software provider which, according to its own LinkedIn profile, aims to offer innovative solutions and a comprehensive business approach.
A document from the Central Public Prosecution For Commercial Prosecution And Corruption of the Republic of Austria, regarding Tzorya's indictment has been leaked to FinLeaks, which reveals information that both confirms and presents allegations and accusations towards the real business that goes behind his company and partner brands powered by Tradologic.
It says: "llan TZORYA from July 25, 2012 to January 28, 2019 as (further) managing director of Tradologic Group, as sole owner and de facto managing director of Super Dev EOOD, as temporary (Co-)operator the "Brands" "OptionStars"/"OptionStarsGlobal" and "Safemarkets" and until September 2018 as (Co-) owner of via the E&G group via call centers in Sofia, Belgrade, Sarajevo and other locations operated "Brands"."
Ilan Tzorya created an extensive digital ecosystem that comprised all components of certain "business" needs—starting with websites and trading software, via call centers, right up to payment service providers and a money laundering network. Since it began marketing, a total of over 240 brands use Tradologic software.
Through the years, the scheme has webbed into a complex enterprise that involved many shareholders and a large base of criminals. Tradologic has allegedly been providing these "business people" the software used to deceive their victims.
In the process of these companies being built with the integration of the software, Tzorya, Golod, and Milena, in their own terms, take advantage of the brand capitalists.
Partners in Crime
Allegations have been raised regarding his relations with the pan-European fraud scheme that allegedly netted over 200 million euros. Accusations aimed towards exposing his illegal business dealings have put his name further into the public eye, along with his associates.
The document has provided links that, apparently, have aided in the success of Tzorya and his business(es). Like many of those who have obtained success, he had his set of "helpers," people who supported him in his evil ventures for financial leverage. Several associates who co-spearheaded these "projects" were mentioned in the document:
1. Michael Golod
Born on the 26th of December 1976, Golod is a self-employed, state relative, Israeli citizen.
Golod allegedly co-operated the Tradologic brands with Tzorya by using the companies to lure investors. "He acted using special skills or means that suggest a recurring inspection, namely each through development and ongoing further development of manipulation software to deceive the victims through the provision of this software or software platform against payment, including risk management by the Tradologic group."
This "gives them the possibility of manipulation and influencing the profit or income opportunities of the deceived created, and through Education and training measures for the fire operators of the named "brands"
The leaked document also reveals certain facts about his other relations with Tradologic: "[Michael Golod] January 2019 as the actual ruler and (further) managing director of Tradologic Gruppe and from May 22, 2018 to January 28, 2019 as the registered managing director of Super Dev EOOD."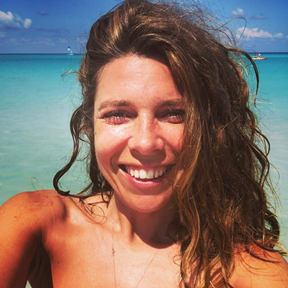 2.    Milena Kabadzhova
Born on June 3, 1983 in Sofia, Bulgaria, and one of the mysterious figures that has been in Tzorya's closest circles for years, yet managed to stay out of the public's eye is Milena Kabadzhova.
While Tzorya has maintained for years that she is no more than a low-level employee in his company, the real picture is far from what it seemed.
Finleaks has been contacted by a high ranking whistle-blower, associated with the criminal organization, a series of interviews conducted in a hidden location with the whistle-blower, along with documents provided by the source, that will be made public for the first time in this special report, show the depth and extent of the involvement of Kabadzhova in the Tzorya crime ring.
Leading and coordinating international scamming operations, laundering millions of Euros stolen from clients and managing numerous of Tzorya's fraudulent brands, the innocent-looking Kabadzhova may well be one of the most sophisticated and notorious scammers to come out of Bulgaria.
Furthermore, the leaked document exposes her other dealings as: "[Milena Kabadzhova] from September 8, 2014 to January 28, 2019—for part about the Biz Dev Ltd., Seychelles, controlled by it—through the organization numerous company coats based in offshore destinations including straw people as Corporate bodies such as New Markets SA, Samoa, Start Markets Ltd., Marshall Islands, or Capital Force Ltd., Samoa."
It goes on to explain: "through the establishment of Bank details including authorized signatories for these company shells through which Management of such bank details, such as those of Global Media Partners Ltd., Seychelles, at DSK Bank, Sofia, by creating bogus invoices with wrong services such as "Marketing Services" or "reseller", through the Organization and provision of payment service providers for the Tradologic Group and the individual fire operators."
Golden Trio
The document writes: "llan Tzorya, Michael Golod And Milena Kabadzhova in Sofia/Bulgaria and at other still to be determined places abroad with the intention of, through the behavior of deceived oneself or a third party unlawfully enriching themselves."
It goes on saying, "numerous immediate perpetrators (call center agents")—at least by way of further, segregated persecuted accomplices—determined or otherwise contributed to their actions, in Sofia, Belgrade, Prague and other places abroad by means of online platforms ("brands") "OptionStars/OptionStarsGlobal", "XtraderFX" (formerly "Cryptopoint"), "GoldenMarkets" and "SafeMarkets" (., BARAK-Brands ") as well as" Option888 ', "Xmarkets" and "ZoomTrader" ("LENHOFF Brands") by deceiving facts."
How exactly? you might ask. "Namely by pretending that that within the scope of the "brands" mentioned, investment products are actually within the scope of the legal requirements were sold, with actually only a "facade" was created to persuade the deceived to deposit funds that those who were deceived actually had no adequate chances of profit or income that chances of profit or income for the deceived by the immediate perpetrators."

One can say that the damage done by these 3 is monumental. The document quantifies the impact as the following: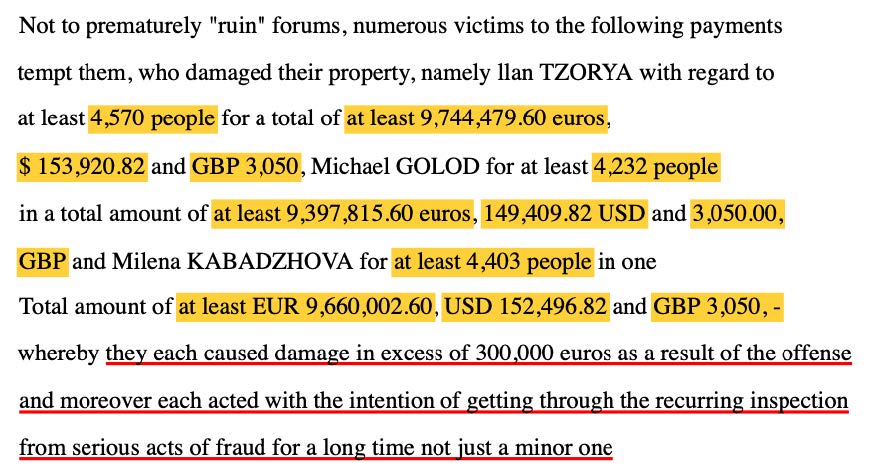 "Each acted with the intention of getting through the recurring inspection from serious acts of fraud for a long time not just a minor one to provide continued income and to use the deceptions aggressive advertising on internet ad space and on social media for acquisition potential investors as well as a professionally designed website including telephone and email support for subsequent business dealings as well as using a specially developed software platform and manipulation software for deception."
As part of the indictment, a list of the victims for each brand have been attached. Some of which are: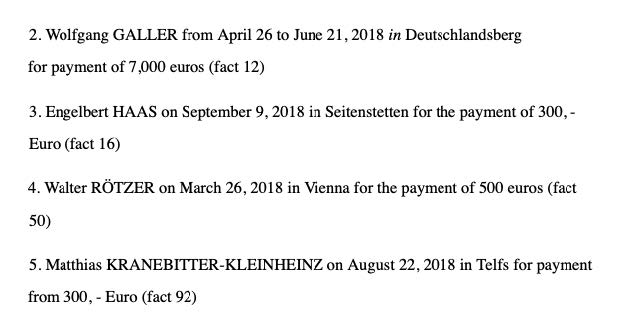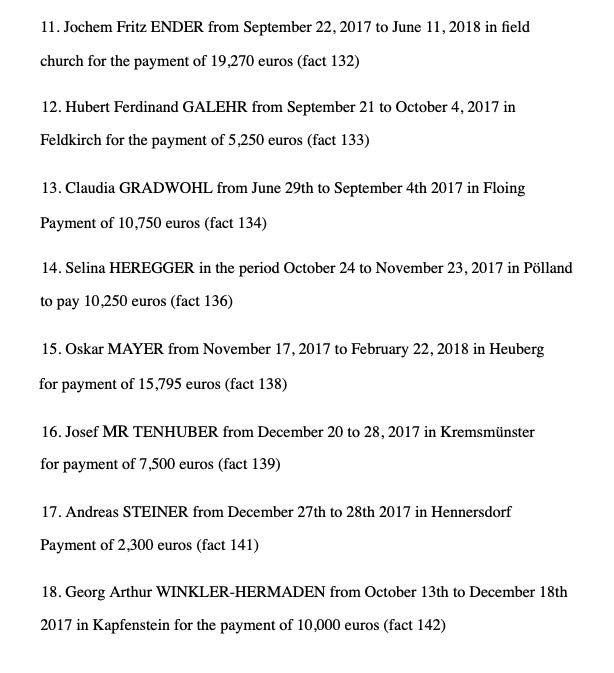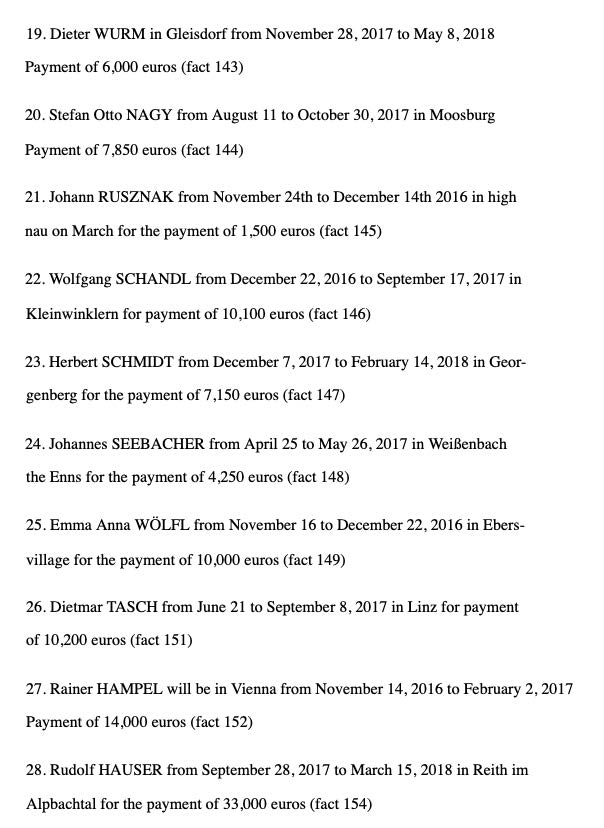 And the list goes on…
Sources: